Posted on: August 17, 2023, 05:22h. 
Last updated on: August 17, 2023, 05:22h.
Online sportsbooks in Kentucky won't be open until the end of September, but officials said today that residents will be able to register for accounts by the end of this month.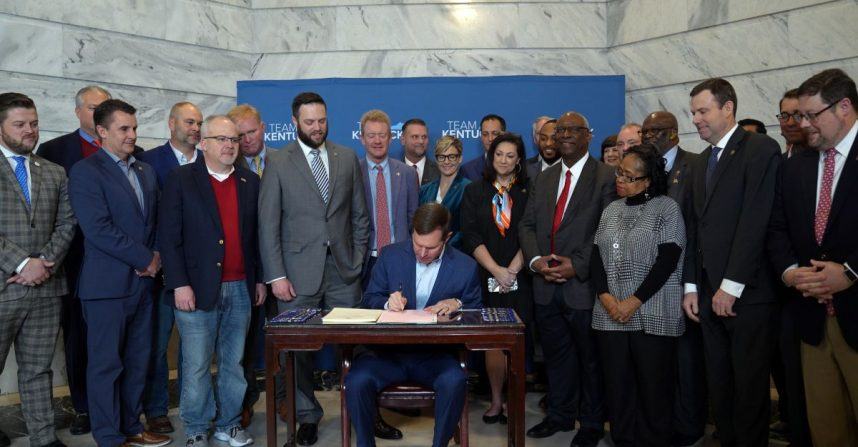 "The countdown is on. We are just three weeks away from sports wagering in Kentucky," Gov. Andy Beshear said in a news release Thursday. "We are ready to deliver the quality entertainment experience Kentuckians asked for, while bringing money to the state to support pensions and free up funds that can be used to build a better Kentucky."
Seven online sportsbooks submitted license applications earlier this month: Bet365, BetMGM, Caesars, Circa, DraftKings, FanDuel, and Penn Sports Interactive.  Kentucky's sports betting law allows up to 27 online licenses, three for each of its nine horse racetracks.
Seven racetracks submitted applications for brick-and-mortar sportsbooks: Churchill Downs in Louisville, Ellis Park in Henderson, Oak Grove Gaming and Racing in  Oak Grove, The Red Mile in Lexington, Turfway Park in Florence, and two, soon-to-open racetracks, Cumberland Run in Corbin, and Sandy's Gaming and Racing in Ashland.
Winners Decided Next Week
The Kentucky Horse Racing Commission will decide on which operators to approve at its Aug. 22 meeting.
Sign-ups for approved online sportsbooks will begin by Aug. 28.
Betting in the Bluegrass State begins a week later, on Sept. 7, but only at in-person facilities. Beshar, a champion of the bipartisan sports betting law, has said he will be proud to place the first bet that day, which is the first of the NFL season.
Online sportsbooks will be able to begin accepting deposits from customers on Sept. 7, but actual betting will have to wait three weeks, until Sept. 28.
Tiered Implementation
Kentucky is taking a tiered approach to implementing its new sports betting law, in order to test policies and procedures at brick-and-mortar sportsbooks before mobile applications begin accepting bets.
"The KHRC is excited to open sports wagering and is working efficiently to meet the necessary deadlines," Chairman Jonathan Rabinowitz said in a statement. "This is a careful process dedicated to wagering integrity and protecting bettors in the state of Kentucky."
Officials estimate Kentucky will earn $23 million in annual tax revenue once its sports betting law is fully implemented. Online sportsbooks are taxed at a rate of 14.25% while brick-and-mortar facilities pay 9.75%.
Kentucky will send 2.5% of the proceeds to a newly created problem gambling fund.