Posted on: July 28, 2023, 07:41h. 
Last updated on: July 28, 2023, 08:59h.
In what seems to be a never-ending saga of sports manipulation in Brazil, more soccer players face accusations of match-fixing. The latest list, the result of three ongoing investigations, includes seven more players, as well as some of the people who ran the illegal betting rings.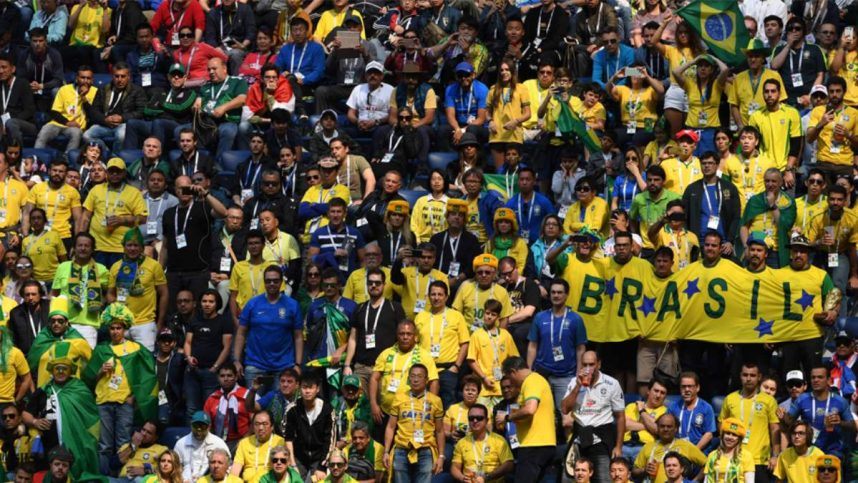 An investigation by the Public Ministry of Goiás (MPGO, for its Portuguese acronym) has identified match-fixing in 13 games in Série A of the Brazilian Championship of 2022. This revelation comes as Brazil continues its Operation Maximum Penalty, an investigation into widespread match-fixing. The investigation is now in its third phase.
The Court of Justice of Goiás (TJGO, for its Portuguese acronym) has signed off on a request by the MPGO to prosecute seven players and seven other people accused of involvement in the scheme, and more players might find themselves in trouble next month. The new chapter in the drama doesn't include the ongoing investigation taking place through a parliamentary commission of inquiry.
Brazil Soccer Falls Apart
Among the athletes cited in the decision are Alef Manga of Coritiba, Dadá Belmonte of America-MG, and Igor Cariús of Sport Club do Recife. Their status with their respective teams, and with Brazilian soccer, is now in limbo.
In addition, Jesus Emiliano Flores, Pedro Henrique Azevedo Pereira, Sidcley Ferreira Pereira, and Thonny Anderson da Silva Carvalho are on the list. They don't currently play for any Brazilian club, although they have all found new homes elsewhere. Azevedo Pereira, known as Pedrinho, is playing for Ukraine's Shakhtar Donetsk.
Other people, who investigators have identified as intermediaries and/or agents, will now also face possible prosecution. Among the names the MPGO mentioned are Bruno Lopez, Icaro Fernando Calixto dos Santos, Luis Felipe Rodrigues de Castro, Romário Hugo dos Santos, Victor Yamasaki, Thiago Chambó Andrade, and Cleber Vinicius Rocha Antunes.
As of the 25th round of the 2022 Brazilian Championship, according to the MPGO complaint, these agents began to look for players offering money for them to receive yellow cards. Only in one case, payment was offered for a red card.
Through their illegal operations, the gang allegedly made about BRL720,000 (US$152,496). All defendants will respond for violations of the General Sports Law, which addresses the offer and receipt of a patrimonial advantage for the practice of an act of manipulation of the result of a sports competition.
The Superior Court of Sports Justice (STJD) on Thursday summoned additional players to testify as part of Operation Maximum Penalty. They'll have to appear when the STJD holds a hearing on August 8.
This list includes Nino Paraíba, Richard Candido Coelho, Vitor Mendes, Nathan Palafoz de Sousa, Diego Porfírio, and Bryan Garcia.
Brazil's Sports Betting Tax Plan Under Fire
Match-fixing isn't the only issue facing Brazilian sports. As the country prepares to launch its regulated market following recent legislative approval, the tax rate is coming under fire.
The rate for operators is going to be 18%, substantially higher than the 5% initially presented. This isn't making them happy, and the Brazilian Institute of Responsible Gaming (IBJR) wants the government to know it.
The IBJR is a trade group representing gaming interests in Brazil. Among its members are Flutter, Bet365, Entain, and Betsson. As the government was submitting the final signature for the sports betting bill, IBJR President Andre Gelfi voiced a concern that has been repeated around the world. The high tax could lead to an increase in black-market gambling.
Gelfi explained that the tax rate may "impact the entire economic chain" associated with the sports betting market. It could lead to less attention to innovation and customer support for the industry, which could have long-term ramifications.
Because the market controls will be tighter, offering incentives to players will be more difficult, as well. As a result, Gelfi believes users will still turn to offshore options that provide better incentives.
It's too late to backtrack now. Brazil has put the ball in motion, and only time will tell if lawmakers properly understand the market or if Gelfi is correct.